Incredible results and inspiring journeys – see some of our patients' before and after photos next time you visit our practice.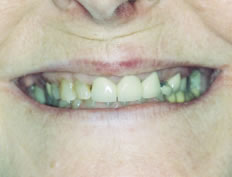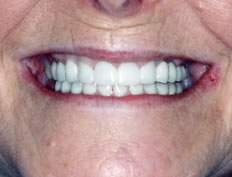 This patient had failing old dental work that had begun to fall apart. Also, she had force related aging and wear on her lower front teeth. This patient's oral rehabilitation consisted of using dental implants to replace some of her missing posterior teeth, an implant bridge, metal free crowns, and a metal free bridge.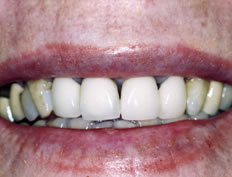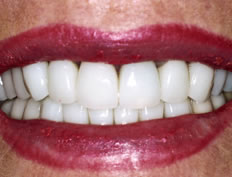 This patient had several old crowns that were discolored and decaying. She also suffered from a bad bite on one side of her mouth that adversely affected her ability to chew her food. Full mouth reconstruction was done to restore her teeth to health and to correct her bad bite. This treatment consisted of root canal therapy and metal free crowns and bridges.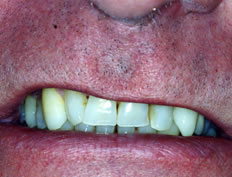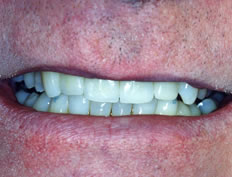 This patient did not like his front top four teeth that were worn and shorter than they should be. Four metal free crowns were used to recontour the teeth in order to give the shape, color, and length of teeth that the patient desired.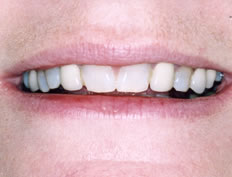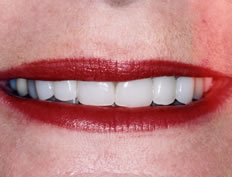 This patient improved her smile by doing a combination of two metal free crowns and four all porcelain crowns on her top front six teeth.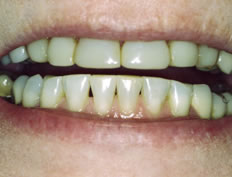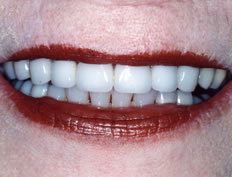 This patient greatly improved her smile by deep bleaching her lower teeth. She also had six old plastic veneers on her top front teeth that were replaced with new porcelain veneers.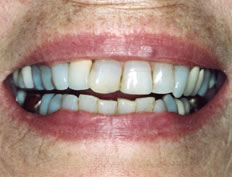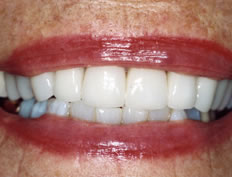 This patient cosmetically enhanced her smile by deep bleaching her lower teeth to get a new, whiter shade. She also improved the shape and color of her top front ten teeth with a combination of all porcelain crowns and porcelain veneers.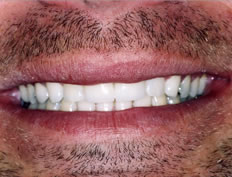 The patient did not like the color and spacing of his front top two teeth. Both the color and spacing were corrected using two porcelain veneers.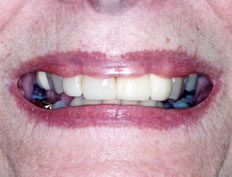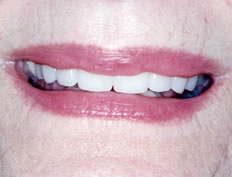 This patient had old crowns on her front four teeth that were decaying. She desired not only to rid herself of the decay but also wanted a fuller smile with whiter teeth. This cosmetic enhancement was accomplished by restoring her front top ten teeth with all porcelain crowns and bridges.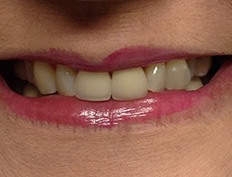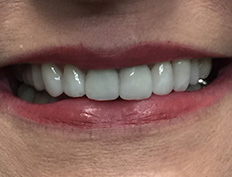 Patient smile was improved by using a combination of all porcelain crowns and veneers.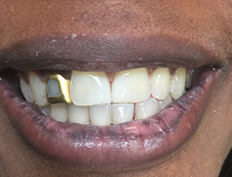 Patient had Diastema (gap between teeth). Conservative resin bonding was used to close the space.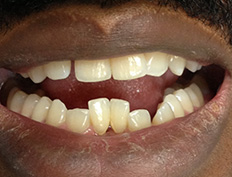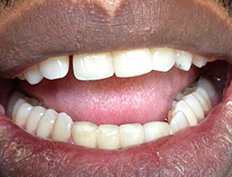 Patients lower two teeth had Supraerupted and was cosmetically unacceptable to the patient. A combination of extractions and an all porcelain bridge was used to restore the patients smile.